My friend Matt was kind enough to extend an invitation to play golf with him at an exclusive club on Friday morning. Matt, who does financial anaylsis, etc., was invited to play by another money guy to play at the Wianno Club, out in Osterville. What a great golf course, but man am I bad.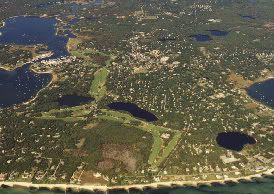 I hadn't touched my clubs in about three months, and it was obvious. I hit maybe one good tee shot all afternoon long. It doesn't matter what I'm hitting, driver, 3W and iron, if there's a fairway in front of me I'm ending up in the trees to the right. It's not even a question.
My first round in months resulted in a solid 109, abut 39 above par. Not good times. The finance guy, John, who invited us was playing later in the weekend in the Wianno champioship. He shot a lazy 72, it didn't even seem like he was trying that hard and the ball went just about wherever he wanted it to. There were at least three or four shots that you would have thought that Tiger Woods hit, so perfect, so pretty.
The other two guys that played killed me too. My buddy Matt shot 98 or 99, I don't remember which, but he played pretty good. He hit the ball well off the tees. The other guy, Russ, hit the ball further than anyone I've ever played with. There were a couple of tee shots that must have been 350-375, but he didn't always hit it straight. On like 16 or 17, he pushed one far to the right and it was followed by a loud clang. The ball went over the trees, cleared the road and put a nice coffee mug-sized dent in someone's mailbox. He finished with an even 90, and if he played more regularly, he's easily be somewhere in the high 70s or low 80s.
I've come to the decision that golf is pretty much a waste of time for me. It's nice to be outdoors, although it was really, really hot, but still, if I had had to pay $100 to play there, I would have really been miserable. Free golf is the best golf, but when you're not any good at it, there are better ways to spend six hours.
The views and opinions in the Enterprise blogs are those of the author and are not neccessarily shared by Falmouth Publishing.