10-4? What's that? It's simple. 10-game road trip starts tonight, four game lead for the Sox.
This is probably the most important road trip of the year, for several reasons. One, it's the last long road trip of the season for the Sox. They head out on the road to Tampa (thank goodness), Chicago (thank you very much) and then New York (wow). Three in TB, four in Chitown and three in the Bronx. Ten days, 11 days, and a division championship could be determined.
Yup, it's kind of important.
Now before anyone starts pushing the panic button, and I'll admit it, I've had to fight myself from reaching for it, let's take into account where the Sox are and where they've been. Seven days ago, exactly one week, they were ahead of the Yankees by — ready for this — four games. That's right, a crappy week is past, one in which they should have added at least two games to the lead if not for Eric Gagne, and they sit right back where they were. Okay, that might not be the greatest news of all time, but they've knocked another six games off the schedule, inching ever closer to the end of the season.
Here's the good thing, while the Sox are opening up three in Tampa (tonight won't be easy, as Kazmir is throwing for the Rays), the Yankees are headed out on their own road trip. You know that tough Anaheim team the Sox just split four games with, yeah the Yankees are headed there for a set starting tonight. After that they travel to Detroit for a four-game series, against another very good team, before coming home to face the Sox starting next Tuesday.
Which team's schedule would you rather have over the next eight days? The Angels and Tigers are both legitimate playoff teams, the White Sox and Devil Rays are more than 50-games under .500 between them.
Advantage Boston.
**********
Now onto the weekend. Here's a quick synopsis. Bucholz was great for his first start. Can't wait to see more of him in the future. I could do without Gagne on a million different levels right now. He's pitched seven times, has only not allowed a run twice and has yet to have a 1-2-3 inning. It's like Wayback John Wasdin Part II, and this guy has won a Cy Young. You explain it to me, because I can't. I still say he needs to go get a new number because 83 is obviously not working.
Papi's homer on Saturday night was a thing a beauty. I was getting LeeLee out of the tub when I heard Rye screaming "daddy, Papi just hit a slam … Papi just hit a slam." He was so excited, it was so good for the heart. That was a great game.
Now onto Sunday, and my reason for personally beginning an anti-JD Drew campaign. This guy is driving me nuts. He's being paid $14 million, and here's what the Sox have gotten so far. A .265 average, 6 HR and 45 RBI. That's basically Trot Nixon numbers, minus the heart and grit, and nearly three times the money.
I know he's having a down season, and I can almost live with that. What I can't live with is the awful at-bat he gave them in a pinch-hitting role yesterday.
Here's the situation. Sox down 3-1, two down in the eighth and two runners aboard. Drew, who I know likes to work pitchers, watches the first five go by from K-Rod. Okay, it's a 3-2 count now, and what does he do? He looks at strike three. Six pitches in a row and he doesn't offer at one?
I may or may not know more about baseball than JD Drew. I'm not sure, I've never had a conversation with him. What I do know, though, is that in Little League they teach you that if you've got two strikes and the pitch is close, you have to offer at it. There's nothing worse than going down looking. At least if you strike out swinging, the effort was there. To go down looking is unacceptable. Not to sound like Mad Dog Chris Russo, but that's terrible. You can't do it. It's bad baseball.
Obviously this guy is not a fan favorite. Not everyone is. Still, if he plans on sticking around past this year he has to start getting it. In Boston and New York there are two types of players, the types that get after it and have the respect of the fans and the kinds that go through the motions. The first type of players, (ie. Ortiz, Jeter, Varitek, Posada) are adored and respected. The second type, well they don't last too long.
He doesn't have to be a dirt dog, not everyone is. He does have to give a hoot, and right now I'm not sure that he does. He's driving us all batty.
**********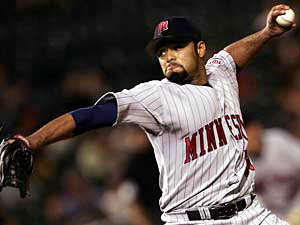 This is me being a selfish Red Sox fan, but I'm thinking if there is any way that the Sox can land Johan Santana in the offseason, they have to make it happen. Schilling is on the books right now for about $13 million. If they don't resign Schilling and bring in Santana, for probably $17-20 million, the payroll goes, up but they become the dominant favorite for years to come, and they keep him out of the Bronx. That's a double bonus.
How about this rotation next year? Santana, Beckett, Matsuzaka, Lester and Bucholz? Wakefield can start the year in the rotation, or pitch middle relief, or whatever.
This is another movement that needs to be started. The Bring Santana To Boston Movement. BSTBM. Who's with me?
The views and opinions in the Enterprise blogs are those of the author and are not neccessarily shared by Falmouth Publishing.