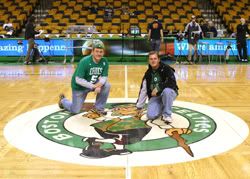 Over the weekend my buddy Aaron called me up and said his dad was bagging out of going to the Celtics game with him on Wednesday and asked if I wanted to go. Who says no to free tickets to see the best team in the NBA? Not me.
Aaron is the biggest C's fan I know, and has been forever. He's been to over a dozen games this year, and can tell you everything there is to know about that team. He's an encyclopedia leprachaunia.
Now I know the C's are pretty good on the PR side of things under Wyc Grousbeck, and I happen to have the owner's email address. On a lark I decided to send old Wyc an email on Monday to see if it would be possible for us to come into The Garden early to have a photo taken down on the court. I figured, what the heck, can't hurt to try. And, I sent it from my home email addy. There were no connections between the newspaper and that email, I did it as a fan to the owner.
I forgot about it and didn't worry about it. Those guys are busy, and probably get a ton of like requests all the time. Nothing ventured, nothing gained. Move on.
Then yesterday morning and email popped up telling me to be at The Garden at 5:30 to meet a representative from the C's PR staff. They'd take care of us.
I called Aaron and told him the good news and told him he'd have to bail from work a little earlier than planned. I picked him up at 3:30 and we were on our way out of town. We hit the traffic just right. A little backup on the expressway, but minimal. We were parked at at the executive offices actually 20 minutes early.
So right at 5:30 our guide, a cool guy named David, showed up and took us through the bowels of the building. We went through a bunch of tunnels and hidden hallways and popped out right there on the court. It was cool. I'd never been that close to the floor before. I've covered several events at The Garden, but usually it's from Level 9 and then down to the locker rooms. This was cool.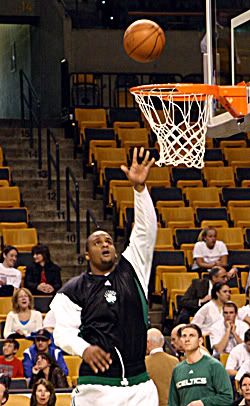 While we were waiting Big Baby Glen Davis warmed up, taking jumper after jumper and working with a coach on his inside moves. The big guy can shoot, that's for sure. And he seemed to be just as affable with those around him as he does on TV. It was fun to watch the Big Baby work on the hook shot and his footwork. It was also fun to watch the Celtics' cheerleaders work on their footwork too.
Once the dancers cleared out, we were ushered to center court and we knelt down on the leprachaun. We took about a half-dozen photos and then cleared the court so Steve Nash and Amare Stoudamire could take over, which was fine. They needed the court more than we did.
Aaron and I watched with wide eyes as Nash drained three after three after three from the corners. Then he did the same thing from the top of the arc. Then we discovered his weak spot, the top right wing. He made like two of 10 from that spot and it was clearly bugging him. Of course in the game he hit one three, from that spot. I turned to Aaron and laughed. So much for Nash's kryptonite.
The game itself was enjoyable. The Celtics came out on fire, then let Phoenix back into the game. Then the home team blasted it open with a great third and fourth quarters. Paul Peirce made it look easy in the fourth quarter and Kevin Garnett was everywhere. Shaquille O'Neal is a beast, I'd never seen someone that takes up that much personal space.
All in all, it was an excellent time. I sent off an email to Wyc to say thank you. It's good to know that a pro organization like that will take care of its fans.
The views and opinions in the Enterprise blogs are those of the author and are not neccessarily shared by Falmouth Publishing.