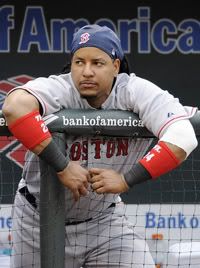 As much as you might want to, I don't think it's time to panic in regards to the Red Sox just yet. Sure the bullpen is in dire need of a kick in the butt, especially Okijima, and they lost five in a row on the road, and were swept by the Rays, and are now 3 1/2 games back. Did we get it all?
It's only July 3. David Ortiz hasn't played in about a month. Last time I checked he was the most feared hitter in that lineup, and they definitely miss him. But, they're a much better team at home and I think they'll turn things around at Fenway.
It's funny, I was finally able to start spending time with the Red Sox again, and look what happens. Hasn't really endeared the team to me, but I'm going to chill and wait. They'll be fine. Getting back home is just what this team needs.
And, even though it goes against everything we know to be true, at least in the past, the Rays are good, maybe very good.
Not only can Tampa boast of Bubba The Love Sponge, Hulk Hogan and a one-time Super Bowl title. The Rays are worth crowing about right now. They've got some fantastic pitching and very good young position players.
At the end of the year, I still think the Sox are a better overall team and will win the division. The Rays are young, and they probably won't be able to hold up over the long haul. But, maybe they're just young enough to not know that. We shall see, but it will be interesting to see the Sox and Yankees have another team to battle for the next three months, other than just one another.
*****
Other stuff
Saw Pearl Jam at the Great ComTweet Center Saturday and Monday night. If you've never seen them live, and you appreciate rock n' roll, you really need to go the next time they're around. Obviously I'm biased, because they're my favorite band, but they put on some of the best concerts you could ever ask to see.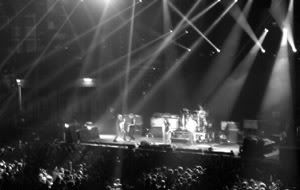 What I loved was that they just know how to ride the line between placating the diehards and the casual fans. Sure they played some of the stuff that you'd expect to see at a Pearl Jam show. The repeated nine songs over the two nights: Alive, Once, Betterman, Elderly Woman …, Given To Fly, Even Flow, Do The Evolution and Why Go. I could have done without two or three of those the second night, but if you've never seen them before you want to see certain songs.
What's cool is that they break out stuff that the diehards want to hear, that they don't usually. Songs like Who You Are, Education and Bee Girl I'd never seen performed before, but I got all three of those the second night.
And they play with an energy unrivaled by most acts that are out there. They may be closing in on middle age, if they're not already there, but they're playing with the vigor of 20-somethings.
My buddy Ando and I had a half-hour conversation about how it's the experienced bands that are the ones worth seeing these days. He's a big Bruce Springsteen fan, and he's seen The Boss a couple of times the last few months, and all of the things I love of Pearl Jam is what he echoed about Bruce. Certain acts understand their fan bases and know how to make them happy. Heck if you're going to charge $75 for a ticket, you'd better make it worth it.
There aren't many other bands I'd spend serious dough to see. U2 for sure. Maybe REM and the Foo Fighters. I'd like to see Coldplay once, although I still find most of their stuff too whiny, but Viva La Vida is pretty good.
****
Took Jellybean to see Wall*E the other day. If you're looking for something to take a kid to, this is the movie. Heck if you just want to see a fun story, that's wholesome and fun, this is perfect.
I really believe that this movie is going to win some awards, and not just animation ones. Pixar nailed it, this might be the best offering they've ever produced.
Wall*E is a story of a robot left behind on Earth to clean up the mess left behind after nuclear fallout, of course they never say there was a war or anything, but the adults can figure that part out easily. A small part of humanity, apparently just Americans, got on a spaceship and floated around space for like 700 years.
Eva is a robot sent back to Earth to search for signs of plant life. She finds that, and also a friend in Wall*E.
What follows is a story about two "people" that fall in love, but sacrifice for the greater good. There are also sub-plots that center around "Green" issues and also people's over-dependence upon technology.
The messages aren't too heavy-handed, but they're certainly there. But they hardly overpower what is excellent story telling, great cinematography and, most importantly, fun. I really loved Wall*E.
The views and opinions in the Enterprise blogs are those of the author and are not neccessarily shared by Falmouth Publishing.